Przeglądarka Internet Explorer, której używasz, uniemożliwia skorzystanie z większości funkcji portalu ngo.pl.
Aby mieć dostęp do wszystkich funkcji portalu ngo.pl, zmień przeglądarkę na inną (np. Chrome, Firefox, Safari, Opera, Edge).
Ogłoszenia
Internship Opportunity in CEPA Warsaw Office!
Internship Opportunity in CEPA Warsaw Office!
Warsaw Office of the Center for European Policy Analysis is offering an internship opportunity to the students based in Warsaw interested in the foreign and security policy, transatlantic cooperation, and hybrid warfare.
The Center for European Policy Analysis (CEPA) is a 501(c)(3), non-profit, non-partisan, public policy research institute. Our mission is transatlantic: to promote an economically vibrant, strategically secure, and politically free Europe with close and enduring ties to the United States. Our analytical team consists of the world's leading experts on Central-East Europe, Russia, and its neighbors. Through cutting-edge research, analysis, and programs we provide fresh insight on energy, security and defense to government officials and agencies; we help transatlantic businesses navigate changing strategic landscapes; and we build networks of future Atlanticist leaders.
Requirements for the candidates:
Proficiency in Polish and English in all fields (writing and speaking in particular) on C1 level;
Status of a student, preferred BA diploma from the fields of international security, international relations, diplomacy, American Studies, Eastern Studies;
Working knowledge of Microsoft Office, including Word, Excel, Outlook;
Interest in the main fields of research of CEPA;
High standard of work ethics – punctuality, responsibility;
Main area of responsibilities:
Supporting the team in organising events;
Office support tasks;
Data input and managing tasks;
What do we offer?
Work in a multinational environment;
Participation in high-level meetings organised by CEPA Warsaw;
Hands-on approach to learning from international security and foreign policy experts in the office and from abroad;
Mentoring opportunities and references;
The candidates are expected to send a CV and a cover letter in English according to the current GDPR requirements to Ms. Patrycja Chomicka at patrycja.chomicka@cepa.org until 29th of February 2020.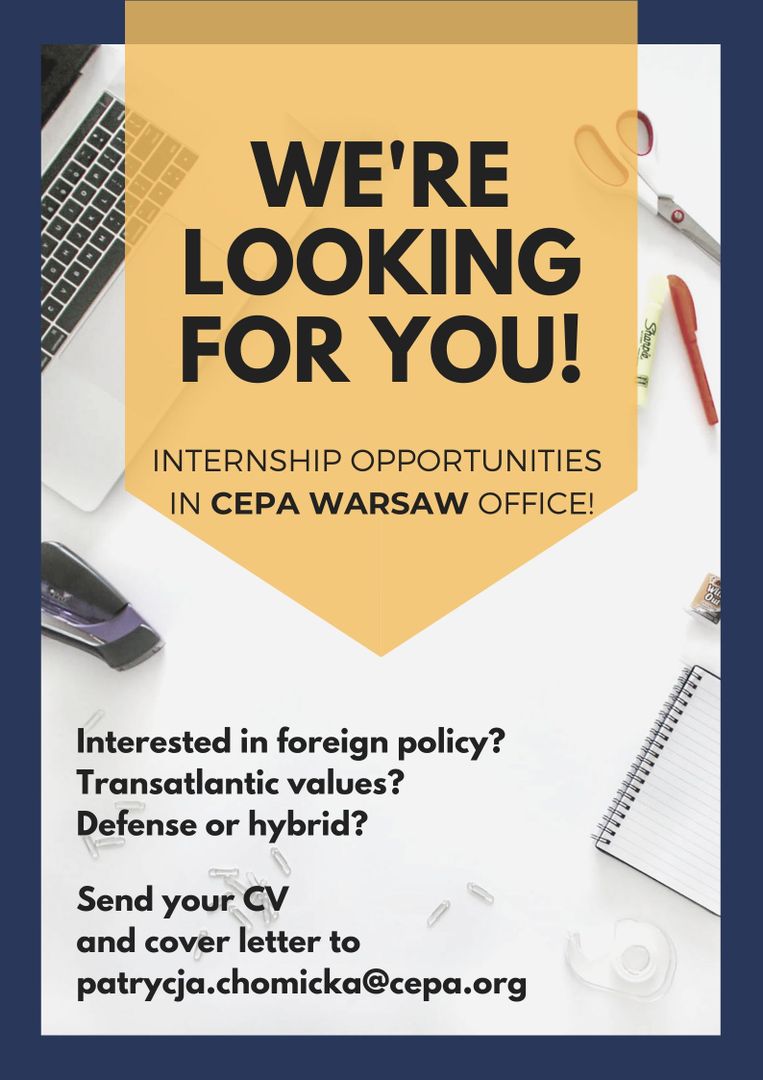 Ogłoszeniodawca:
CEPA Warsaw
Ważność ogłoszenia: od 13 lutego 2020 do 15 marca 2020
Redakcja portalu www.ngo.pl nie odpowiada za treść ogłoszeń.